15 Inch Touchscreen LCD Monitor with resolution 1024*768 Model CVJU-E38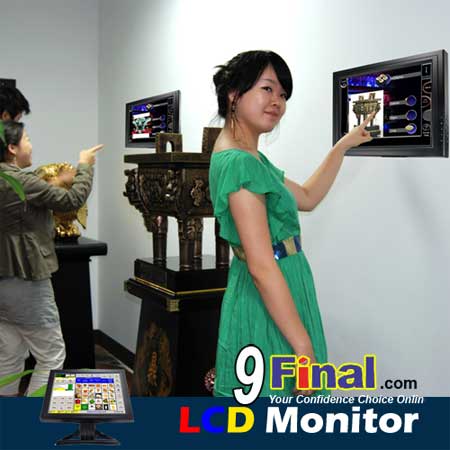 For nearly the same price as a regular monitor, get this amazing touchscreen LCD monitor to help boost productivity for home, office, or at your place of business.

FOR HOME/OFFICE: Touch the screen directly with the pen stylus (included) or your fingers. The screen is collapsible to behave like a tablet so you can draw on it. This is great for artists and graphic designers. Why waste time sketching out your ideas on paper and scanning them when you can now sketch right on the screen! Kids will love it too. Open up Microsoft Paint and let them screen finger paint! Great for hours and hours of fun! Here's some great news for multitaskers! Tap and click at the same time. For example, you can finger drag icons around the desktop with your left hand and mouse click open files with your right hand. Instantly double your productivity!

FOR BUSINESS: 15 inches of display brilliance is perfect for the home or office PC, but add touchscreen to the deal and this baby transforms into a POS (Point Of Sale) business solution! Here's a question for you restaurant owners out there. Do you recognize these bottlenecks?
I ordered the cheeseburger and fries, not a Greek salad!!
How come order 551 left the kitchen before order 549!?!
Ben, you math dunce! You should have charged the customer $47.94 not $35.61!
End the customer experience nightmares with this 15 Inch LCD touchscreen wonder! POS screens aren't just transforming the food and beverage industry (bars, food court shops, coffee and donut stores, etc.), they're revolutionizing how quickly business is done in the entire retail business realm. Gas and petrol stations with customers lining out the door. Double and triple your volume and keep your customers happy with this touchscreen solution! It's also great for mall booths and kiosks selling everything from lottery tickets to cigarettes! Whether you're in retail sales or provide consulting solutions for the industry, add this point of sales phenomenon to your arsenal to increase sales, improve the customer service experience, and minimize cash transaction losses.

15 Inch LCD Touchscreen!
Screen Touch and Mouse Click Simultaneously
Great replacement monitor as a regular monitor
POS retail solution
Ideal for artists / designers

Main Function: Liquid Crystal Display Touchscreen Monitor
Display Area: 15 Inch
Resolution: 1024 x 768
Screen Angle: 90 Degree Tilting (can lay flat like a tablet)
Brightness: 300 cd/square meters
Signal Cable: 15-pin Model D Plug
Front Panel
- TFT/LCD Touchscreen
Back Panel
- Power Adapter Input
- VGA Port
- USB Port
Right Panel
- Contrast
- Brightness
- Color adjust
- Color temp
- Clock
- Phase
- Sharpness
- Horizontal Position
- Vertical Position
- Timer
Languages
- English
- French
- German
- Chinese
- Japanese
- Korean
Certification: UL, FCC, CE, TUV, TCO'99
Manufacturer Ref: HF7T1PCFVA8E
Product Notes
It comes with a pen stylus, but you can also use your finger to click on icons, enter onscreen numbers, anything you'd normally do with a mouse and keyboard!
Monitor stand easily removes so the touchscreen monitor can be hung on a wall
Our biggest LCD touchscreen monitor to date!
Well constructed and durable
Package Contents
Model CVJU-E38 Touchscreen LCD/TFT Monitor
Collapsing Touchscreen Pen / Stylus
Easily Detachable Monitor Stand
Power Cable (100-240V 50/60Hz)
USB Cable
User Manual - English


FAQ - Frequently Asked Questions
How do you right click using this touchscreen?
Instead of tapping the screen, place your finger on the screen and wait. In one or two seconds, the right click menu will appear.
Can this monitor help me spend quality time with my children?
Definitely. Know what an Etch-A-Sketch is? This is the ultimate Etch-A-Sketch. Just open Microsoft Paint or some other drawing program and let your kids express themselves. This is better than drawing with a mouse, since children have trouble grasping the finer points of mouse usage whereas a touchscreen monitor is as intuitive as...playing with food.
What else can I use a touchscreen monitor for?
For starters, you can finally have a real signature appended to your emails. Just write on the screen. In addition, many banks and institutions require signatures even for electronic communications. That won't be a problem anymore.


รับประกันสินค้า นาน 12 เดือน
ราคาสินค้า ได้รวมภาษีมูลค่าเพิ่ม 7%