YYL Wireless Dome IP Camera F980A ( Pan/ tilt )with Night Vision 10 M /Sound 2 way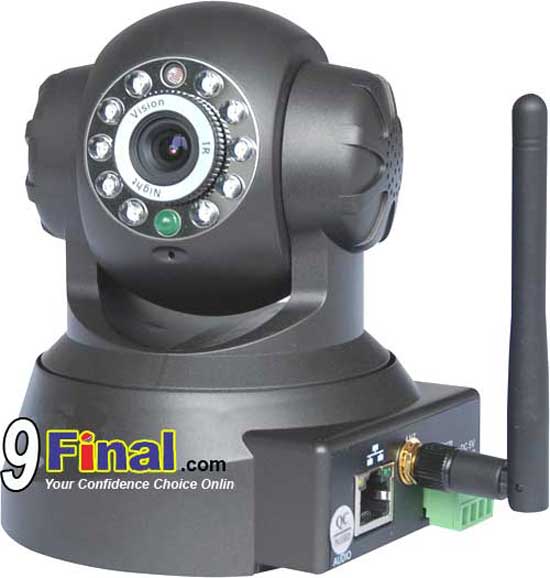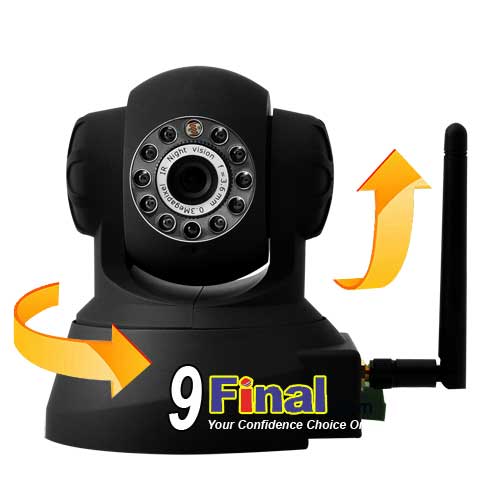 The ultimate IP security camera that comes with motion detection alarm recording function has arrived. Monitor and record from anywhere in the world.

Are you worried about security? Then we have found the perfect peace of mind gadget available in the market today. This is an IP security camera that has it all. Night vision, email alert, motion detection, quad screen viewing, tilt and maneuvering functions with a click of the mouse. You can set up to 4 IP cameras and give each a static IP, then go online from anywhere in the world by visiting the IP address and login to start monitoring.

Once you are logged in, you can manage an array of functions and change, modify, implement, view, and do so much more than just sit and watch. This model provides true versatility in its applications with WiFi enabled and the additional option that allows this smart IP camera to alert you via email when the motion detection record function is activated.

Whether you're at an airport or a coffee shop, or you're in Hong Kong, Paris, London, Barcelona, California, Moscow etc, you'll be able to check the security status of your home or business from any computer in the world that has an internet connection. The WiFi feature on this global security camera with motion detection recording comes with a CMOS 1/4 inch sensor for providing you with a high quality image for over the web viewing and supports TCP/IP, DHCP, SMTP, TP, DDNS, UPNP network protocols.

Thanks to the night vision capability you can monitor and view your home or office any time, 24/7. The YYL-F980A Wi-Fi feature comes with WEP encrypted security options, this helps in making sure your IP security camera system is protected from hackers. You can be at your office, Starbucks, or pretty much anywhere and still have full control of your security system to see what is going on at home.



﹡Wireless: WIFI, 802.11B/G
﹡motion-JPEG
﹡CMOS 300,000 pixels
﹡VGA: 640 x 480 /CIF: 320 x 240
﹡Night vision: Φ8mm x 11 LED, IR 10m
﹡Pan horizontal rotation: 0 to 270
﹡Tilt vertical rotation: 0 to 90
﹡Two-way audio
﹡ceiling,dome,Indoor use

Hardware:

CPU: DSP+MCU
OS: Built-in OS

Video:

Compression format: Motion-JPEG-N
Signal system: CMOS 300,000 pixel
frame ratio: 25fps
Resolution:

VGA: 640 x 480
CIF: 320 x 240

picture adjust: brightness,contrast,chroma,saturation
Minimum illumination: 0.1 Lux/F1.2
S/N ratio: >48DB(AGC off)
shutter speed: 1/50s(1/60s)-1/100,000s
white balance: auto
backlight balance: auto
Night vision: Φ8mm x 11 LED, IR 10m

Lens:

standard: F1.2/6mm,54° ,CS

Audio: Two-way
Pan/Tilt: Built-in RS485, Pan horizontal rotation: 0-270°, Tilt vertical rotation:0-90°
Network:

Internet interface: RJ-45,10/100MB ethernet network
Protocol: TCP/IP, HTTP, ICMP, DHCP, SMTP, PPPoE and so on
Wireless: WIFI, 802.11B/G
IP mode: Dynamic IP address,Static IP address

Others:

Shape: ceiling,dome,Indoor use
Power: DC12V 1A
Temperature: -10-50° C
Humidity: 95% RH
Attachment: Adaptor, Disc, Manual, bracket

Size:

Camera: 91mm x 103mm x 135mm
Pack:240mm x 145mm x 200mm

Alarm:

Input/Output:1/1
Intelligent Motion detection: Motion detection setting
Alarm action: support email,notes alarm

System requirement: Win98/SE/ME/2000/XP,IE 5.0, NET4.5 or above
Features:

Safety Settings: supports the two-level password: administrator and user authority
DDNS(free):Free DDNS bounded
Superiority:P2P technology, mobile view
Center management software(free):1,4,9,16,25,36 or 64 multiple video display optional in one screen, support record, alarm, remote playback on records and other management functions.


| | |
| --- | --- |
| | |

รับประกันสินค้า นาน 1 ปี
ราคาสินค้า ได้รวมภาษีมูลค่าเพิ่ม 7%
สินค้านี้ ได้ถูกบันทึก ลงในฐานข้อมูล เมื่อวันที่ จันทร์ 16 มกราคม, 2012.
ปรับปรุงข้อมูลสินค้า ครั้งสุดท้าย เมื่อวันที่ อังคาร 05 มกราคม, 2016