Digital Video Recorder Spy Camera (Keychain Car Remote Style) res 720*480 w/o memory # IMP_AN_808
เป็นกล้องถ่ายภาพวีดีโอ ในรูปแบบของพวงกุญแจ ความละเอียดสูงสุดในการบันทึก 720*480 สามารถบันทึกภาพได้ 30 เฟรมต่อวินาที ในทุกชิ้น ราคากล้องยังไม่ได้ รวมหน่วยความจำ แต่หน่วยความจำ ราคาไม่แพง สามารถเลือกได้ จะเป็น 2 gb, 4gb, 8 gb, 16 gb ในแบบ T-Flash สามารถนำภาพ เข้ามาที่คอมเตอร์ ผ่านสาย usb และสาย usb ยังใช้สำหรับ charge ไฟด้วย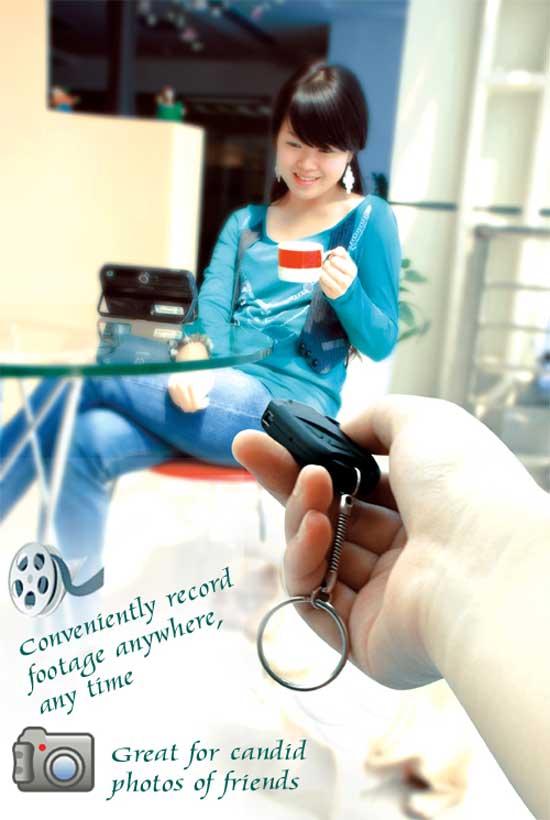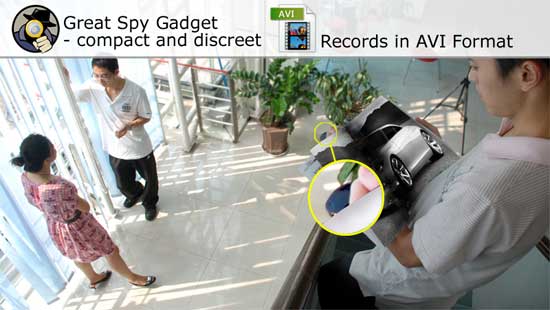 ตัวอย่าง คุณภาพของภาพ ที่บันทึกวีดีโอ ขนาด 720*480
ตัวอย่างของภาพ วีดีโอ ที่ติดไว้กับรถ โดยบันทึกในโหมด 720*480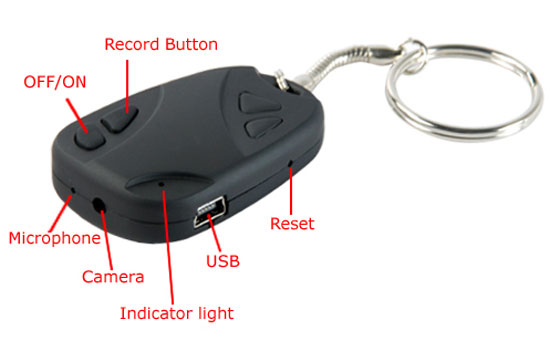 DVR Digital Video Recorder Spy Camera in a keychain car remote style casing. Coming in a compact form factor and presented in raven black, this discrete spy camera is disguised as a standard car alarm remote on a keychain. A DVR device with a concealed camera for recording motion video of your surroundings or unsuspecting people, the DV=006H is a fantastic spy gadget that is easy to use. With its deceptively normal exterior and easy to place on flat surfaces, this is the perfect device for all aspiring secret agents! Effortlessly record high quality color video at 720 x 480 (VGA) resolution at 30 FPS for smooth playback - simply connect the spy device to your PC via USB to access your recorded footage.

Coming with 0 GB of internal flash memory, you can be confident of never missing any important scenes. Use this spy gadget to record hours of business meetings or interesting events on the sly. Stay one step ahead with this incredibly fun, discrete and unique digital video camera. The device can also be used as a standard high-quality DV and still camera for candid shots but in a highly convenient form factor. This fantastic gadget can also be used as a standard USB memory device to conveniently transport your important computer files - simply connect it to your computer using USB and copy your files over to it!


This is a truly useful dual-function item that can be used by anybody, anywhere! Place it on your desk, on a shelf, in the background close by - it is the perfect covert device to record footage! Easy to use and practical, this compact and pocket-sized device has been designed with maximum portability in mind so it fits unobtrusively anywhere. This Spy Camera is also a great portable video and photo recording tool for those people who work in the business, education, HR, security, media, press relations, tourism and related fields and may need to make quick



It has small contour design, which does UV spray finishing for the whole body. It is very fashionable and wearable and matches with all kinds of portable tools.
Support PC camera and chatting function.
Support AVI video format.
It can carry out high definition image recording under low illumination.
Support 30 fps for 720*480
Support USB1.1 and USB2.0.
Support 16GB T-flash card.(maximum)
Build-in lithium battery which can make a video more than one hours, the standby time is up to 120 hours.

Device Specifications:
- Color CMOS sensor
- Auto White Balance Adjustment
- Focus Range: 150mm ~ Infinity
- Internal Flash Memory: 0 GB ( ซื้อเพิ่ม)
Digital Still Camera Specifications:
- Format: JPEG

Digital Video Recorder Specifications:
- Format: AVI
- Frame Rate: 30 FPS
- Capture Resolution: 720 x 480(VGA)
Power Source: Internal Rechargeable 280 mAh Battery
Battery Life: 60-90 minutes (continuous video capturing)
Dimensions (mm): 50 (L) x 32 (W) x13 (H)9
FAQ - Frequently Asked Questions
Does this product also have a voice recorder too?
The product has a microphone however the subject will have to be near the device to record sound clearly.
How do you record video with the device?
Press the on/off button for about 3 seconds, till the yellow LED light appears, so the item is turned on. Then press the record button for about 3 seconds, the yellow LED will flash 3 times then stop. This means the device is recording video now.and has entered recording mode. Press the record button again, the yellow LED light will appear again and the device will stop recording video and save the file.
How do you take still photographs with the device?
Turn on the device, the yellow LED will appear and be solid (not flash). Just press the record button once, the yellow LED will flash once to show that it has taken a photo. The image will be saved automatically. The yellow LED will flash once every time it takes one photo.
How do you set the time of video and images taken with the device?
Create a new Txt file on your computer named "SetTime". Open the file, input the date and time in the following format: year , month, day, hours, minutes and seconds format (for example : 2009.05.18 18:28:23). Then save the text file, connect the device via USB and copy the text file to the root catalog of the device then disconnect the device. Then turn on the device again to record a video as usual; connect to the computer again and you will find the date and time have been changed to the one you had set. If this method does not work, please try formatting the device first, and then repeat the previous steps.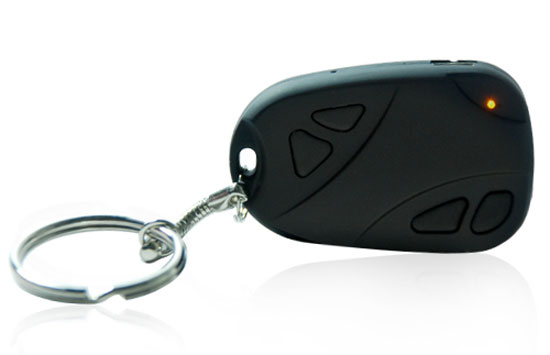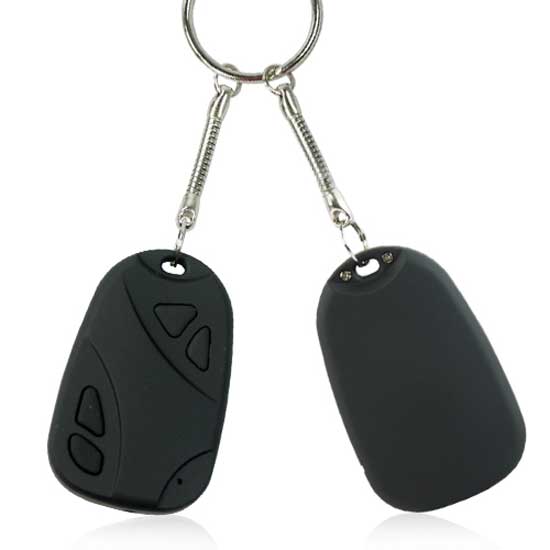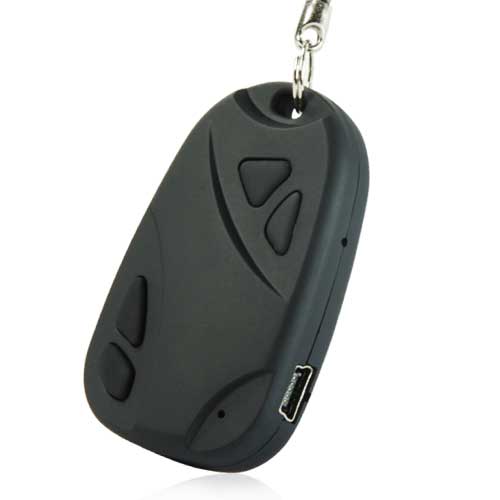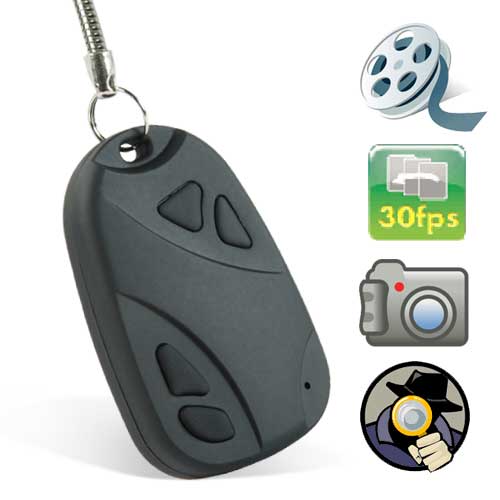 | | |
| --- | --- |
| | |

รับประกันสินค้า นาน 6 เดือน เสียเปลี่ยนตัวใหม่
ราคาสินค้า ได้รวมภาษีมูลค่าเพิ่ม 7%